grat·i·tude
ˈɡradəˌt(y)o͞od/
noun
the quality of being thankful; readiness to show appreciation for and to return kindness.
We've all been told more than once that we should "be grateful", especially this time of year. But how many of us have managed to make it a year round, daily practice? How many of us have thought about what that means and what kind of impact it could have on our lives and the people around us?
Turns out this small, easier said than done shift from a readiness to be angry, put out or disappointed to a readiness to show appreciation for and to return kindness, is a real game changer.
To be brief, having a strong gratitude practice makes us more optimistic, less materialistic, more spiritual, less self-centered and have more self-esteem. Sounds awesome right? But how do we get there? Well it takes a little more than saying what you are thankful for once a year at Thanksgiving dinner. But that's a start!
What's next? Well there are many options so I'll list a few that have helped me get my Attitude For Gratitude into full swing.
A Gratitude Journal – Put a notebook next to your bed and every morning, before emails and social media posts of death and destruction get you down, write down three things you are grateful for.
Thanks You's – Every day, call two people or send two cards, texts or emails congratulating or thanking someone for something good that happened or for just being in your life.
Burdened To Fortunate – Find small ways to shift your attitude about common occurrences in life that we tend to react negatively to. This is my favorite example. When checking the mail we often say to ourselves something like, "Oh great, what do I have to pay for now?" Try this instead: "I am really fortunate to have electricity, what do I owe for this privilege?"
A Mindfulness Practice – This can take a bit of time to develop, but well worth the effort. So far, I have dedicated a little corner of my bedroom to my sitting practice. I now keep my phone charging there overnight so when the alarm sounds, I have to drag myself over there to turn it off. Instead of snoozing four times, I now grab a Youtube video from my "meditation library". Before I start my day, I put on my headphones, close my eyes and listen to Deepak Chopra, Alan Watts or Pema Chodron for at least ten minutes. I expect at some point my practice will deepen, but for now, I'm grateful I have finally worked this small favor to myself into my life.
Ready to find your Attitude for Gratitude?
Here is a great in depth article about how gratitude can change your life.
The opposite of gratitude is negativity and complaining. We all know it's not good for us but to fully understand the value of gratitude it might serve you well to also have a better understanding of how bad getting on that Complain Train can be.
Here is a fascinating Huff Post article on the subject.
For you folks who are ready to finally get going on that mindfulness practice you've heard so much about I'll leave you with two more useful articles. How to Start a Mindfulness Practice and Mindfulness Tips.
I hope you all have a beautiful and delicious Thanksgiving full of, love and gratitude.
And please take a moment from your day to honor our indigenous peoples.
I am truly grateful to have every single one of you in my life.
Happy Holidays,
Zia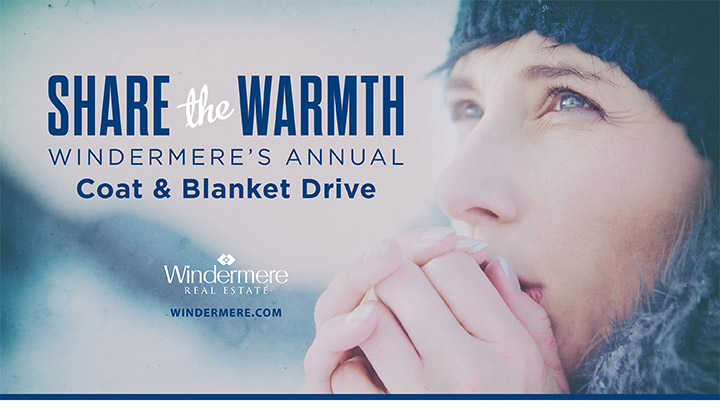 Brrrrrr! It feels like winter is coming on quick now. It's time for warm coats and cozy blankets. Sadly there are many people who don't have what they need to stay warm when the weather turns cold. In fact homelessness has jumped nearly 10% in the last two years. There are currently 4,177 people without permanent homes on any given night in Portland.
As part of Windermere's long-standing commitment to help those in need, our offices throughout Oregon and SW Washington will be collecting coats and blankets NOW THROUGH DECEMBER 15, M-F, 9am to 5pm.
I invite you to join us in the effort. Please help share the warmth this winter by bringing new or gently used adult-sized coats and twin-sized blankets.
My office is the Windermere office in Sellwood at 1610 SE Bybee Blvd if you want to swing by with a coat or blanket, I might be around for a quick hello and hug. Or you can visit any of the other Windermere offices that might be more convenient for you.
Click here to find a Windermere office near you.
Thanks in advance for your generous donation. Stay safe and warm this winter.
In gratitude,
Zia McCabe
Posted on November 14, 2017 at 9:08 pm
Zia McCabe
Posted in

homelessness, Volunteering
Tagged

charity, coat drive, donate, give, homelessness, Oregon, philanthropy, poverty, volunteer, volunteering, Washington, Windermere, Windermere Foundation, winter

We treasure our outdoors here in the NW. It's devastating when our beloved green spaces are mistreated. As the fires die down in the Eagle Creek area and Fall is upon us, you might be looking elsewhere for your autumn hikes or wanting to help with the restoration of the damage done by those careless teens. Lucky for us we are blessed with a plethora of other trails we can explore in the remaining outdoor weather days. And also lucky for us, the scorched earth will heal. I've included a few links to trails in or near Portland that I personally love. Please enjoy them while the weather still allows. Also below, you'll find reputable sites that will put your donations to good use, and sites where you can donate your time helping various organizations repair and replant.
Trails I love:
I grew up camping and hiking here so it's special to me.
I'm a huge fan of waterfalls and this park has some of my faves!
Sometimes the best places are right in our back yard.
Places to donate and/or get involved:
For more beautiful trails and more ways to help, click the drop down menus titled "Get Outdoors" and "Get Involved" or, you can scroll down to find my micro blogs titled "Featured Local Activity" and "Featured Volunteer & Donation Opportunities" which I will be updating frequently.
I hope to run into you on one of these trails!
"In every walk with nature one receives far more than he seeks." -John Muir
Best Regards,
Zia McCabe
Your Trusted Real Estate Advisor
Rock & Roll Veteran
C- 503.701.1018
O- 503.414.4936
Posted on September 28, 2017 at 12:57 am
Zia McCabe
Posted in

Autumn, Hiking, Outdoors, Volunteering
Tagged

autumn, fall, forest fires, hikes, nature, NW, outdoors, pdx, portland, volunteering